Going to Physiotherapy After Surgery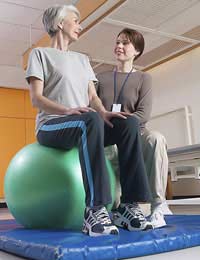 If you have been reading articles on this website about some of the various surgical procedures that people undergo, you will have become familiar with the fact that the recovery period following your operation will often incorporate a certain programme of physiotherapy.
This will often be done both at home and by regular attendances as an outpatient at a physiotherapy unit for a determined period following your surgery.
Why Is Physiotherapy Important?
Whilst surgery can correct certain medical problems, you can often only recover your true physical capabilities and return to full mobility and enjoy as normal a lifestyle as possible if you follow a defined physiotherapy programme after your operation. Although mostly connected to orthopaedics, physiotherapy can help people who have suffered from a variety of other conditions.
For example, it can help following pregnancy and gynaecological surgery, people who have suffered with chronic chest problems and those who have suffered from head injuries or strokes to name but a few.
The Role Of The Physiotherapist
Generally speaking, the role of a physiotherapist is to incorporate a variety of techniques in order to help your bones, muscles and joints, which may have previously been damaged or broken to work again to their full potential.
By following a recommended physiotherapy program both as an outpatient and through exercises you can do at home, it helps to speed up the recovery and healing process and to reduce stiffness, pain and increase your mobility.
Not only is it just about exercising, a physio's role is also about educating people and offering them advice about how a particular condition they have been suffering from may have arisen, how it might have been prevented in the first place and how to prevent it from reoccurring in the future.
Why You Should Follow The Physio's Advice To The Letter
Surgery by itself is not always enough to fix a particular problem and if you are given a programme of physiotherapy to follow, you should follow it to the letter as it is designed to help you get better faster.
Without following your physiotherapist's advice, you're likely to find that your recovery will take longer, you'll suffer more pain, your mobility may even get worse, not better and you'll be negating the positive effects that the surgery itself was designed to achieve. People who don't follow through on their physiotherapist's advice tend to fall into one of two categories:
Those who cannot be bothered doing any kind of exercises whatsoever and will always look for some kind of excuse as to why they've not been following through on their physiotherapist's advice
Those who are impatient and are so keen to get back to full mobility as quickly as possible that they overdo things or cram in exercises at too early a stage following their surgery that they fail to realise that they have not given their body sufficient time to physically heal before moving on to more advanced stages of their physiotherapy regime before their body is fit enough to do so which can then set them back even further
Therefore, if you've undergone any kind of surgery in an effort to improve a condition you've been suffering with and your recovery comes with instructions pertaining to a programme of physiotherapy, if you want to give yourself a chance to make a proper and sustained recovery, then you should follow your physiotherapist's instructions, programme and advice to the letter.
By all means, you should feel free to ask any questions about the programme you've been given and to discuss any issues as to why it might not be possible to follow a programme to the exact specifications as set out by your physiotherapist as they may well be able to modify certain aspects to suit your own individual needs and circumstances. The key aspects to always avoid, however, when it comes to physiotherapy are to do nothing or to do too much.
Your physiotherapist is there to ensure that they give you the best possible solutions tailored specifically for you in order that you reach a point in time at which, whatever your problem or condition was in the first instance which necessitated in you requiring surgery, your health, mobility and general physical and mental well-being are all improved significantly as a result, hopefully for the long-term.
You might also like...