Dietary Adjustments After Surgery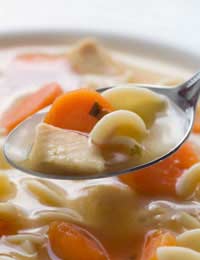 Depending upon the type of surgery you have undergone, it may well be necessary for you to make a transformation to your eating regime after surgery, during your recovery and possibly beyond it. In fact in certain cases, you may end up having to adopt a completely new approach to your diet for the rest of your life if the conditions of your surgery warrant that.
A prime example would be in cases where you have had surgery to combat an obesity problem such as having a gastric bypass or lap band fitted where a radical transformation of your eating habits will be required. However, it's not just for these reasons why you might need to make dietary adjustments.
If you've been treated for a certain type of cancer or heart problem or you're diabetic, your surgeon may also want you to make certain modifications to your diet if your surgery is to be successful and to best prevent medical problems which are in some way directly or indirectly related to your diet from recurring.
When You Don't Feel Like Eating
There's every possibility that you might temporarily lose your normal appetite for a while following surgery. Initially, you may only be able to take in food in liquid form and you may even develop intolerances and dislikes to foods which you enjoyed previously. Your surgeon will be able to advise you about this.
Even if you lose your appetite temporarily, they will be able to advise you on ensuring that your body is still getting the correct amount of nutrients even if initially, you may need to obtain them in different ways.
Vitamins and minerals, for example, are vital to each of us and perform very important and specific functions in maintaining the function of our body's cells but as we're all aware, these can be obtained via supplements if needed if our appetite isn't quite the same in the immediate aftermath post surgery.
The Importance Of Protein
Whatever type of surgery you've had, the importance of getting enough of the right kinds of protein cannot be understated. Protein is the nutrient that enables the body to build new tissue, preserve existing muscle tissue and also ensures that any wounds you've got as a result of surgical intervention are able to heal more quickly.
Once your appetite has returned, you're likely to be encouraged to eat lean meat or poultry with the skin removed and cooked in a healthy fashion as well as eating fish and dairy produce such as eggs and cottage cheese which are high in protein but low in fat.
Other Dietary Adjustments
If your surgery requires you to make any necessary dietary adjustments, you'll be told about the types of food you should be eating and, perhaps more importantly, what foods you should be avoiding or at least only eating in moderation and be given diet sheets and dietary advice which is appropriate to the surgery you've had and the type of condition you've been suffering from. You may be put on a diet plan which is easily digestible or given simple recipes to follow which are low in salt and/or sugar or are low in cholesterol.
Following Your Surgeon's Advice
The importance of following your surgeon's advice regarding your future diet and any adjustments you need to make following your surgery is something you need to pay close attention to as in certain circumstances, including the types of conditions and surgery that have already been referred to in this article earlier in particular, failure to follow a new eating regime is likely to result in similar or even more severe medical problems occurring in the future.
The fact is that dietary adjustments don't always necessarily mean that you'll be restricted from eating your favourite foods or that mealtimes will simply become something of a chore. On the contrary, people who are advised to make dietary adjustments after surgery or because of a particular condition they've got or have experienced in the past often find that it's more a case of adopting a different and healthier pattern of eating and simply changing old habits that may have been ingrained for many years.
And, once the change is achieved, many people would point to the fact that not only was it necessary and appropriate to transform or modify their diet but that they actually feel and look far healthier as a result of making those changes which, though it might involve quite a bit of adjustment and willpower in the early stages, soon becomes an accepted and easy to manage way of living when it comes to their food consumption.
You might also like...