Planning to Visit a Loved One in Hospital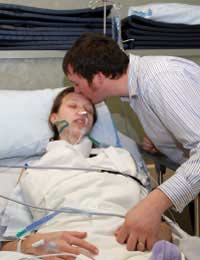 Your loved one can feel very vulnerable if they have to stay in hospital for treatment and so it's important that they are visited by their nearest and dearest. Not only does this keep them connected to their usual life and also gives them something to look forward to over the course of the day when time can pass by very slowly, it's a fundamental part of a patient's ability to recover and to begin to look forward to the future.
Planning Collectively
Sometimes it's not just the patient who can feel stressed out by the hospital experience but so, too, can their partner who's no doubt waiting anxiously at home and can also find it a stressful time. Therefore, when planning a hospital visit, it's often a good idea for family and friends to get together and work out some kind of schedule so that not only will your loved one get to see a variety of close friends and family staggered over the duration of their hospital stay but it will also alleviate the pressure on immediate family members such as a partner, a parent or children to bear the full responsibility of having to go and visit at each session.
Planning Your Own Visit
When planning a trip to visit your loved one, find out the visiting hours and try to stick to them wherever possible. In some cases, hospitals do appreciate that you're not able to visit during their set visiting hours. This may be due to work, family or other commitments you may have and, in the vast majority of cases, the hospital should be able to permit you to visit your loved one outside the normal hours although it's important to check with them first.
Also, try to ensure that your visit is not going to be coinciding with several others at the same time. Not only can this cause a strain on the patient but most hospitals will only be able to accommodate 2 to 3 visitors to each bedside at a time.
Try to be punctual. Patients look forward to seeing a friendly face so try not to be late. Hospitals can induce boredom if you're a patient and so pay them the courtesy of turning up on time so that they can escape any feelings of boredom at least for an hour or so.
What To Take With You
Hospitals tend to be able to cater for a patient's every need these days so the traditions of taking a bunch of grapes or a bunch of flowers no longer seem to fit. In fact, some hospitals will actively forbid you to bring in flowers as they can cause an allergic reaction to some patients so you need to check first.
Practical items such as newspapers, magazines and books are always a good bet as are crossword and puzzle books or TV and phone cards but be very wary of taking in any foodstuffs as this might be forbidden and even if you 'sneak' it past the nurses, you may be doing more harm than good.
Things You Should Be Aware Of
You should always be prepared that your loved one may not be in the mood to see you. They are in hospital for a reason after all so if they seem low, distant, aloof or disinterested, you might simply have to put that down to the treatment or the after effects of the treatment and try to stay positive.
Hospital hygiene is also something you need to be more concerned with these days than ever before. Therefore, if you, too, have not been feeling very well or you're just getting over an infection or have a severe cough or cold or if you've recently had diarrhoea or sickness, you should put off your visit as you could be putting both your loved one and other patients at risk. And, if you are visiting, make sure you wash your hands at the hospital itself before heading onto the ward.
Show respect to the nursing staff and to other patients, especially if your loved one is on a shared ward. In other words, don't hold loud conversations as others may not have any visitors and may want to rest and get some sleep or they may have not long got out of surgery and the nursing team won't want to deal with too much disruption.
Depending on the circumstances and how busy they are, you may get the opportunity to speak with a member of the nursing team to ask them how your loved one is coping and progressing but don't feel slighted if you've picked an inopportune moment to ask. A nurse's role can be transformed from one of relative calm to 'action stations' in the blink of an eye so you may need to get a progress report at another more suitable time.
However, visiting time is important for both the visitors themselves and especially for patients who, for obvious reasons, see it as an opportunity to reconnect with reality and it is something most of them look forward to each day on the road to recovery.
You might also like...