Waiting For A Partner's Surgery To Be Completed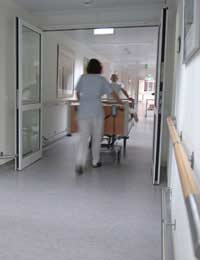 Waiting for a partner's surgery to be completed can bring about almost as much anxiety for the person doing the waiting as it can for the patient themselves. How you spend the time will invariably depend upon the estimated time the procedure is likely to take and you'll be able to get a reasonable idea of that from the medical team at the hospital.
It's inevitable that even for the most routine operations, you'd not want to venture far from where the surgery is going to take place which means that you're not going to want to leave the hospital campus until after the surgery's completed.
Therefore, it's important that you try to keep occupied as not only will this help to pass the time more quickly, it will also prevent you from becoming too anxious and worrying too much.
Reading Material
If you're a reader, bring a book or some magazines or newspapers with you. Reading is probably the best way to take your mind off the reason you are there and to focus your thoughts on something else instead.
Bring Work Along With You
If part of your job involves paperwork, this might be an ideal opportunity for you to catch up with that. Furthermore, there may be some areas in the hospital which allow you to use laptops or similar hand-held devices which might be useful in tackling paperwork or getting on with other work related projects.
Listen To Music
Similarly to the above, the use of MP3 players might be permitted in certain waiting areas so listening to some smooth, relaxing music may help to relieve you of some of the anxiety you'll be experiencing as you wait. Some hospitals may permit the use of hand-held games consoles in certain areas of the hospital but you'd need to find that out in advance.
TV Lounge
Hospitals will usually have a communal TV lounge that visitors can access and, alternatively, many waiting rooms themselves now come equipped with TV.
Take a Walk
Unless you've been informed to remain close by, getting some fresh air is a good way of relieving anxiety and tension. Some hospitals are set in beautiful gardens but even if the one you're visiting isn't, just going for a stroll around the grounds or perhaps even visiting a nearby park, if you have time, will take your mind off things a little and help to pass the time.
Take Your Phone
Even if you're not able to use your mobile phone inside the hospital, you can always use it outside and spending some time on the phone or exchanging text messages with another friend or family member is going to help your mind to focus on something else.
Prepare a List of Questions
If you haven't done so already, write down a list of questions you may want to ask the surgeon or nurses once the operation is over. Your partner is likely to need some additional help when they recover from the operation and so if you have any questions about their recovery and need any advice about how you can be helping them get back to full health, jotting all this down will ensure that you don't forget anything when it comes to speaking to the surgeon or other members of the surgical team later.
Visit the Hospital Chapel
Many visitors gain a great deal of comfort in spending some time praying for their loved ones as they undergo surgery and virtually all hospitals will have some kind of chapel or place of prayer where you'll be able to find solace, comfort and some quiet space to pray for your loved one.
Go For Something To Eat
All hospitals have a restaurant or a café that's open to the general public and it's important that you stay nourished in the event that a surgical procedure goes on into the night. Even if the café is closed, most hospitals will have a number of vending machines from which you can buy snacks and hot and cold drinks.
Have a Nap
If you feel tired, having a nap in the waiting room is a sure-fire way to pass the time and to restore your energy levels.
No-one would deny that waiting around for a partner to come out of surgery will seem like an eternity whilst you await news of how the surgery has gone and it's bound to be an anxious time until you see your partner come around from the anaesthetic and have received the news that the surgery has been a success but by making a few preparations first, you can ensure that the 'waiting game' doesn't seem to drag on for too long.
You might also like...