What Does Radiotherapy Involve?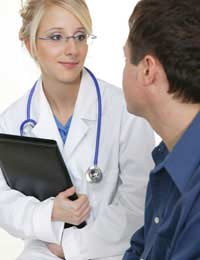 The principles of radiotherapy are very similar to those of chemotherapy (see related article) in that it is used to attack cancerous cells which are dividing rapidly. However, where chemotherapy uses a combination of drugs to try to achieve this, radiotherapy uses radiation. It is also used in combination with chemotherapy treatment in some instances.
When is Radiotherapy Used?
Radiotherapy is used for a number of purposes when it comes to treating cancer but is especially useful for cancers which are in their early stages in areas such as the lungs, prostate, cervix, brain, thyroid and skin. If caught early enough, radiotherapy might be the only treatment a patient would need to get rid of the cancer.
It can also be used to reduce the size of a tumour prior to surgery and to make sure all of the cancer is destroyed after surgery as well as having other additional uses. If appropriate, your oncologist may discuss the possibility of you undergoing radiotherapy, having taken into account the size of the cancer and its location in terms of the sensitivity to radiation of the affected location and the areas around it.
Your general physical well-being and fitness level will also be a factor for the oncologist to consider before recommending radiotherapy treatment.
Preparing For Radiotherapy
The preparation for radiotherapy is very meticulous and precise and can often take longer than the actual treatment itself. Firstly, the cancer has to be pinpointed using X-Rays or CT scans the latter which give a 3D picture of your internal organs. Then, small dots are marked upon your skin which represent the specific areas where the radiotherapy will be targeted.
Radiotherapy Procedure
The procedure itself is carried out either externally or internally. With external radiotherapy, energy beams are directed at the spots which have been marked to target the actual cancerous cells. The machine is similar to that you might be familiar with when you've had an X-Ray and like an X-Ray machine, you'll not feel anything. You'll usually receive a small dose each day Monday to Friday and then you'll have the weekend off to allow your body to recover.
Internal radiotherapy is when the radioactive source is put inside your body to allow it to get closer to the tumour. It involves a minor operation which entails a stay of a few days and because of the radioactivity involved, hospital visiting will be restricted. This procedure is commonly referred to as brachytherapy.
Another internal procedure is called radioisotope therapy which is where a liquid such as radioactive iodine is either injected into your body or can be drunk. The two different internal procedures are used to treat different types of cancer.
Radiotherapy treatment from start to finish can last up to 8 weeks approximately but many treatments can end sooner than that if the cancer has been caught early enough. In a similar manner to chemotherapy, however, there are certain side effects to be aware of.
Possible Side Effects
Tiredness, loss of appetite, sickness and vomiting, diarrhoea, weight loss, hair loss, itchy skin or red soreness like sunburn are just some of the possible side effects of radiotherapy. In the long term, the area of the skin which has been treated may lead to permanent scarring and your hair can sometimes grow back to be of a different colour and texture.
You may find that if the area around your bladder, for example, has been treated, you may no longer be able to hold urine for as long and you may experience feelings of tiredness long after your treatment is over. It should be stressed, however, that not all radiotherapy patients suffer from all of these side effects.
As with chemotherapy treatment (which is often combined with radiotherapy), you'll be given as much opportunity as you need to discuss things with your oncologist. There may be pros and cons to radiotherapy but ultimately, your oncologist will be able to explain things simply to you in order that you can reach a decision as for many patients, early detection of cancer and early radiotherapy treatment has enabled patients to get rid of the cancer quickly before it's had a chance to spread which has saved them a lot of time consuming surgery and treatment, not to mention eliminating worry and uncertainty about their future.
You might also like...