Trigeminal Neuralgia Surgery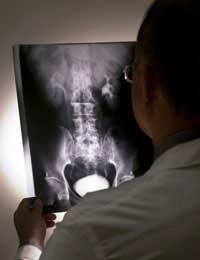 Trigeminal neuralgia is an extremely painful illness caused when the trigeminal nerve that leads from the spine in the neck to areas of the head and face becomes compressed. This can happen for several reasons. The most common is that a blood vessel near to the trigeminal nerve becomes hardened because of atherosclerosis, and expands, pressing on part of the nerve. It is also possible for a tumour to grow near to the trigeminal nerve, or swelling to arise after an accident.
In most people who develop trigeminal neuralgia, the pain they experience is severe and they need treatment to stop their illness interfering with their daily life.
Drug Treatment for Trigeminal Neuralgia
The pain that results from compression of a major nerve can be extreme and can be set off by changes in temperature. People who have trigeminal neuralgia tend not to have pain all of the time but then experience intense periods of pain that come in the form of attacks. An attack can be set off by vigorous chewing, going out into the cold, or drinking a cold drink.
Normal everyday painkillers don't really have too much effect on the pain, which can be really sharp and unbearable and can come in waves that last for a minute or two each time. The pain is highly unpredictable, making it difficult for people to plan activities and usually they find that their work and social lives suffer.
The drugs that are recommended tend to be unusual drugs for pain relief, and include medications such as carbamazepine and gabapentin, which are often used to treat conditions such as epilepsy. They work by decreasing the excitability of nerves, so reduce the chances that external changes in temperature will set off the pain response.
Surgery for Trigeminal Neuralgia
Drug treatment does help in some cases of trigeminal neuralgia but it often doesn't work in many people. The drugs can also work for some time, and then the condition worsens and they no longer have any effect. The only option then is to have surgery to try to relieve what is causing the compression of the trigeminal nerve so that it can recover and hopefully settle down again.
Until recently, microsurgery and neurosurgical techniques were used to either destroy parts of the trigeminal nerve, so that no transmission at all could occur, or to compress the nerve at a different point to relieve the effect of pressure lower down. When done in a controlled way this has the potential to bring complete relief. Depending on where the nerve is accessed and destroyed, the operation can either be relatively simple and short, or long and complex. The more difficult cases need the nerve to be destroyed at points near to the original of the nerve at the base of the brain, so involve major brain surgery.
As the nerve is being destroyed or compressed to stop pain signals being able to travel along it, this type of surgery usually has some side effects. Most people find that they have regions of skin on their face and head that have no sensation at all, they have become completely numb. Most people find that this is preferable to the alternative.
Newer Types of Surgery
In the past few years, the development of stereotactic radiosurgery with the cyberknife has made it possible to target and destroy the trigeminal nerve using very high doses of radioactivity. These are very finely focused to destroy the trigeminal nerve at any point along its length without needing to operate in the conventional way. A cyberknife treatment can be done as an outpatient procedure, and has no immediate after effects. Someone can go to have their treatment in an afternoon, and their condition usually then resolves completely over the next few weeks with the pain of trigeminal neuralgia permanently prevented from then on.
Access to the cyberknife treatments has been limited in the UK until 2009 but now units are appearing in both private centres and NHS hospitals, making it more possible to get the treatment as either a private patient or an NHS patient. Although the cyberknife itself is expensive at £2 million per unit, the actual cost of treating trigeminal neuralgia using stereotactic radiosurgery is much less than having a long and difficult brain operation.
You might also like...
Anyone to help withadvice so that my daughter could feel better .. It's been years of facial pain , we've had all sorts of operations performed major being decompression of the trigeminal nerve , there was relief of pain for around 4 months then all back again. Exactly 8 weeks ago she had radio static surgery done. Radiation.Since then she has not experienced any relief yet, shes on tegretol and topamaxincluding a cocktail of pain killer she mixes for some relief , and I have to take her to my local GP for drips every week sometimes twice he then gives her parfalgon,traumel, exfro, and most times pethadine. The pain is so bad she struggles with day to day.. My question.. The radio surgery that was done will this still start to relieve her pain, or does the fact that she still has pain mean it didn't work?I can't get an answer from my neuro or the surgen ,
Ang
- 13-Nov-14 @ 2:25 PM