Having a Hysterectomy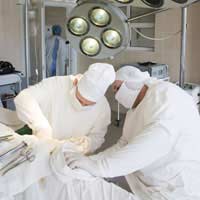 A hysterectomy involves removing your womb and perhaps other areas around it. It is quite a substantial operation for a woman to have to go through but is a commonly performed surgical procedure and, as such, it's usually fairly straightforward.
When It Is Needed
A hysterectomy can be carried out for a number of reasons:
To eliminate chronic pain often caused by the inflammation of the pelvis and/or pain due to heavy or painful periods
To treat cancer of the womb, ovaries or cervix
As the result of a prolapse which is where the womb drops into the vagina
As the result of fibroid growth or endometriosis which is where tissue which lines the womb starts spreading to other areas
Types of Hysterectomy
There are 3 different types of hysterectomy:
Subtotal – where only the womb is removed
Total – the womb and cervix are removed
Radical – the womb, the fallopian tubes and part of the vagina are removed
Once a hysterectomy is carried out, you will no longer have periods nor will you be able to bear children and it is a surgical procedure which will usually be the last option after considering your condition and whether or not your problem might be treated by other means.
The Operation
A hysterectomy is carried out under general anaesthetic and requires a hospital stay of up to 5 days. It usually takes about an hour to perform and, once you are anaesthetised, the surgeon will make an incision across your lower abdomen just below what is commonly referred to as your 'bikini line'. However, if you also have fibroid growths, the incision might mean a cut down from your navel to your bikini line.
The womb is then removed through the incision area and then the surgeon will sew up the top of the vagina. To close the incision, metal clips or stitches (which may be the dissolvable type) will be used.
After The Operation
Once you come around from the anaesthetic, pain relief will usually be administered via a cannula which is a tube which will have been inserted into your body. Often used for draining bodily fluids, it can also be used to inject pain relief medicine and you will have a hand pump by which you can control your own pain relief.
You'll also have to have a catheter inserted initially and you might feel discomfort when you're trying to pass urine but that will normally wear off within a day or so. Opening your bowels can also prove difficult in the first couple of days and, as the surgeon will not want you to strain the wound, mild laxatives are often used to help with this.
Recovery
You'll usually be allowed home within 5 days when any stitches or clips are removed and you'll receive plenty of advice regarding things like bathing, getting out of bed and diet. If you have dissolvable stitches, they will usually dissolve themselves within about a week to 10 days.
Once home, you'll need to rest up for a few days but you can then start to do the exercises which will have been given to you by a physiotherapist and a short daily stroll will be fine. The concern for many women is when they can start to drive again and the short answer is usually when you'd feel confident enough about performing an emergency stop which is usually about a month to 6 weeks after the operation.
You also need to be careful about lifting anything heavy in the first few weeks and if you have young children, you may need to think about getting some help with childcare in the early stages following your operation.
It is common to experience some blood stained discharge from your vagina for up to 6 weeks after surgery. This is normal but if the discharge becomes heavy or smells or is coloured bright-red, you may have an infection so you might need to visit your GP. Also, use sanitary towels to control this as they are better at preventing infection than tampons.
You will have received plenty of advice from your surgeon about what you should and shouldn't do during the first couple of months after surgery but, on average, a complete recovery usually takes around 3 months when you're likely to be able to resume full activities and have sexual intercourse without experiencing any pain.
You might also like...