I Had My Finger Sewn Back On: A Case Study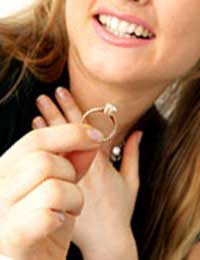 Maia has just celebrated her 21st birthday with a holiday in Lanzarote with her boyfriend. She is full of beaming smiles and cannot contain her excitement that he proposed during a romantic dinner one evening and she has a beautiful diamond and ruby engagement ring. "It looks gorgeous and I can't help looking at it but, for a while, I thought I would never be able to look at my hand again," she says.
Accident During Work Experience
When she was 16, Maia went through work experience for 2 weeks as part of the careers guidance curriculum at her school. "I was in my GCSE year and we had to choose 2 different places to work. For my first week I went to the local riding stables and was mucking out horses each day. I didn't like that much and the following week I went to the local food packing factory. That was even worse," she exclaims.
Half way through the week, Maia was counting the hours but trying to make the best of things when she was asked to work with the person responsible for the automated packaging on one of the food products. "He started chatting to someone else about some changes in shifts and I noticed that once of the packets had got stuck. Without thinking I just reached out with my left hand to pull it free but the machine then came down on my hand. I fell to the floor with shock but I had no pain and I didn't realise that the machine had cut off my index finger," remembers Maia.
How to Save a Severed Finger
Luckily, the supervisor standing close by was trained in industrial first aid and knew exactly what to do. The finger had been severed cleanly by a sharp blade in the machinery and it had fallen just to the side of the machine, not even onto the floor. He shouted for help and asked one of his co-workers to fetch a clean container, some cling film and ice, and a clean towel and first aid kit. "I looked at my hand and just passed out but they told me afterwards that the ambulance arrived within 20 minutes and by then my hand had been bandaged carefully, and my severed finger had been wrapped in the cling film and placed in an unused polystyrene coffee cup filled with ice and I was taken straight to the nearest microsurgery centre, about 45 miles away," says Maia.
When a finger is severed cleanly, there is a good chance that it can be reattached but it must be preserved in good condition. The finger must never be placed in water or allowed to get wet but it must stay cold, which is why wrapping it in cling film before placing it in the ice is the best thing to do.
Microsurgery Team is Prepared
The paramedics who accompanied Maia to the hospital phoned ahead to tell the hospital of the situation and an operating theatre and team of micro surgeons was prepared. "Luckily, I had been in a rush that morning and hadn't had any breakfast, just a glass of orange juice and as it was nearly lunchtime, and I was OK to have the anaesthetic. I was out all afternoon and when I woke up, being sick of course, my mum was there looking really worried," explains Maia.
The operation to sew Maia's finger back on had taken 4 and a half hours, but the finger was reattached within 8 hours of being severed, so the surgeons were hopeful that the finger would survive. They had pinned the bones together using metal wire and then repaired the arteries and veins to reconnect the blood supply to Maia's finger. They had to work using a microscope and then had to rejoin the tendons and attempt to join the nerves. "The operation took a long time and I was told when I woke up that I would have leeches attached to my finger for a week. I was sick again when they told me that," laughs Maia.
Long Road to Recovery
The leeches and the operation was only the start. Once Maia's finger started to heal she had to undergo hours of physiotherapy, with daily exercises to make sure that her finger became usable again. Now, nearly 5 years later, the index finger of her left hand does have a scar and is stiffer than the other fingers, but it is usable and as Maia has all of her nails professionally manicure, she still have very presentable hands. "Now I have a lovely engagement ring on the ring finger of that hand, that takes attention away from the scar too, which is great," she grins.
You might also like...
fusing and grafting bones and arteries, reattached fingers, they still work, we should work on taking that concept even farther, research and development, for amputees, working with newly deceased people before their limbs begin to decompose,begin discussing the possibilities throughout the media and medical community, I would ask through the minds of minds in your organizations, that you get the topicstarted around the world. thank you for your time.
hyme from earth
- 26-Dec-13 @ 12:06 PM