I Needed Breast Reconstruction: A Case Study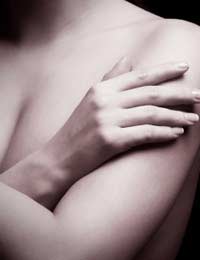 Seven years ago, after finding a lump in her left breast, Hannah embarked on two years of treatment for breast cancer. "At the time, I was terrified that I would not survive and my only thoughts were about living for my children, who were only 10 and 12 at the time. I could not bear the thought of them having to grow up and go through school without me."
The surgeon treating Hannah decided that the best course of action was a complete mastectomy of the left breast followed by radiotherapy. He also removed the nearest draining lymph node to check if the cancer had started to spread. "I was very, very lucky in that the lymph node was absolutely clear. After the operation I started having radiotherapy and the surgeon said that having further treatment, such as chemotherapy, was unnecessary. We had caught the cancer in time," says Hannah
Breast Cancer Survival
The rate of survival after breast cancer has increased enormously in the last 20 years and a woman diagnosed with a small tumour that has not spread out of the breast at all can have a 60% chance of surviving for 20 years. Over 80% survive for at least 5 years. "The treatment was fantastic and things have come on a lot since then. I was put on tamoxifen, which I took for 5 years, and what I thought originally was a death sentence turned out to be much more positive," adds Hannah.
Thoughts of Reconstruction
Even before the mastectomy, the doctors and nurses treating Hannah started to ask her about the option of breast reconstruction later on. "Just before the operation, I was so focused on the cancer and the dread of dying, I couldn't take anything onboard about reconstruction. It didn't seem important then," says Hannah. But after 6 months, once the surgery had completely healed and Hannah was back at work and in the thick of family life, she began to reconsider.
"It wasn't that I hated my appearance or I wouldn't let my husband see me – the scar was quite neat but I was unbalanced. I was flat-chested on one side and had a D-cup breast on the other. I began to get really frustrated with trying to get a prosthesis and bra so that I looked as if I had two breasts. If I had had both breasts removed, that would have been less of a problem afterwards but I just felt wrong."
Reconstruction Options
When Hannah went to discuss the options for reconstruction, she was amazed at what was possible. As her remaining healthy breast was a D-cup, she was told that the reconstruction could match this for size, but it was likely to look 'lifted' compared to the natural breast. "The surgeon planned an initial operation to rebuild my left breast and to put a silicone implant in there, but he said that I would need a couple more minor operations to modify the size later – and to give my right breast a lift with a small implant. He also said he would reconstruct the nipple during this operation."
To make the nipple look as natural as possible after it had been formed from a skin flap, Hannah was advised to have a course of tattoos to colour the skin.
In all, the operations took place over a year and after the trauma of facing breast cancer, having a boob job and tattoos seemed much less serious," smiles Hannah. The surgeon was pleased with the result, as was Hannah. "When I looked at the photograph taken for the medical records when everything had healed, I honestly thought that it would be very difficult for anyone to tell that both my breasts weren't natural. I am so happy that I had this done," she says.
Not All Women Choose Reconstruction
Hannah decided that reconstruction was best for her, but some women who have had a mastectomy or a lumpectomy that completely changes the size and shape of one of their breasts do not always want to go through more surgery. Some women choose only to have a breast reconstruction and avoid further surgery to create a nipple while some women prefer to wear an external prosthesis. Specialists within the cancer unit can advise about very realistic prostheses to make you more comfortable. Ultimately the choice is yours.
You might also like...