Cryosurgery Explained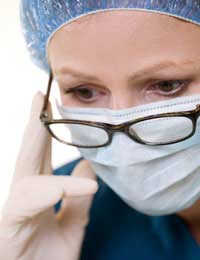 Unlike certain cancer treatments which rely on heat to destroy tumours, cryosurgery uses extremely cold temperatures to destroy cancer cells. It can be used both inside and outside the body and is particularly effective in the treatment of certain types of skin cancers.
How Does It Work?
Cryosurgery relies upon the process of producing extremely cold temperatures using liquid nitrogen or argon gas in order to destroy diseased or abnormal tissue. The freezing temperature results in the formation of ice crystals in the diseased tissue which causes abnormal cells to tear apart.
The Procedure
For external problems such as skin cancers, in particular, treatment is quick with usually few, if any, side effects. The liquid nitrogen is simply applied to the abnormal cells directly using either a swab or spraying device. In addition to smaller skin cancers and precancerous skin cells, it can also be used on things such as moles, warts and skin tags. The procedure deadens the skin which falls off later by itself.
Cryosurgery can also be used for internal abnormalities. These can include certain forms of prostate and liver cancer, cervical abnormalities and also haemorrhoids.
For internal problems, the treatment is administered using an instrument which is inserted into the body to come into contact with the tumour or abnormal tissue. This is known as a 'cryoprobe'.
It works by circulating argon gas or liquid nitrogen which results in a ball of ice crystals forming around the probe which then freezes the affected cells. After cryosurgery has been completed, then eventually the frozen tissue thaws and it is then absorbed by the body naturally.
Side Effects
Although you can experience side effects as the result of undergoing cryosurgery, they tend to be far less severe than other more conventional treatments such as those associated with the likes of chemotherapy, radiotherapy and surgery.
Side effects will also depend on where the tumour was located. For example, if you've had cryosurgery to treat skin cancer, you can sometimes experience scarring, swelling or a burning sensation in the area which has been treated. Bone tumours treated by cryosurgery can sometimes result in healthy bone tissue nearby to be destroyed or to fracture and if carrying out the procedure to treat the cervix, some pain, cramping or bleeding may occur.
The Benefits
One of the key benefits of cryosurgery is that it is far less invasive than other forms of treatment as well as producing far fewer side effects. It's also a far less expensive treatment to administer. Furthermore, it has started to gain increasing popularity for those for whom other medical conditions or a patient's age means that they're not suitable for other traditional forms of surgery or treatment.
The Future
Cryosurgery is still a relatively new type of cancer treatment compared to other traditional methods. However, because of the success it's had, it is being evaluated by medical experts to assess how suitable it might be for treating other cancers in the future including those found in the kidneys, colon and breast.
Other evaluations include testing to see how cryosurgery could be incorporated into and effectively combined with other treatments such as radiotherapy, chemotherapy and hormone therapy.
You might also like...