All About Having a Gastric Band Fitted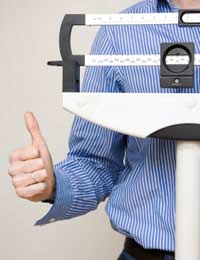 Gastric banding is an alternative form of surgery to having a gastric bypass in that it's designed to help people who are very overweight and need to lose weight to avoid their health problems as a result of carrying too much weight becoming more serious.
The procedure involves fitting an adjustable band around the upper part of your stomach in order to create a pouch. When you then eat, the pouch fills up quickly and then slowly releases the food though a gap into your stomach and then follows the usual digestive pattern.
The benefit is that, as the pouch fills up quickly, this will cause you to feel fuller on much smaller sized meal portions and therefore you'll lose weight as a result as you won't feel the need to eat such big meals.
Preparing For Surgery
You'll have already had routine blood and urine samples taken and your blood pressure checked about 2 to 3 weeks prior to surgery so on the day of surgery itself, you'll have a final blood pressure check, another urine test and your heart rate monitored.
You might be asked to wear compression stockings to prevent blood clots forming in the veins of your legs but this is simply a precautionary measure and shouldn't concern you. You might also be asked to take a drug called heparin which is simply to thin your blood and, once again, this will help to prevent clotting.
The Procedure
Having the gastric band fitted can either be done through open surgery or even via keyhole surgery these days and it only takes between half an hour to an hour to complete, depending upon which type of surgery you have.
The band is fitted using special instruments and then adjusted by adding or removing fluid in the band. You're likely to need to have the band readjusted a few weeks after the surgery as the result of swelling caused by the initial operation and whichever type of surgery is used, you'll be placed under general anaesthetic.
After The Operation
You may feel some pain or discomfort in the immediate aftermath of the surgery but you'll be given pain relief to help with that. Over the first 24 hours following surgery, you'll only be able to drink clear fluids and won't be able to eat solid food and it's possible that your surgeon will advise that you only have a liquefied or pureed diet for the first few days afterwards.
If you've had open surgery, you may initially need to have a catheter fitted in order for you to expel urine and you may also have other small tubes draining fluid from the wound but this should only be for a couple of days. As soon as you feel able and usually within a day or two, you'll be asked to get out of bed and walk about a bit as this will help prevent both clotting and chest infections from occurring. You might also be taken for an X-ray to ensure the band is correctly positioned.
Recovering at Home
The crucial thing about having a gastric fitted and it being a success is that you'll be required to follow a strict diet which will be a whole lifelong lifestyle change. If you eat too much, not only will the operation fail but you're likely to feel or be sick and feel nauseous. And, in the early stages of adjusting to a new diet, you may also need to take a regular multi-vitamin supplement to compensate for any shortage of nutrients.
Like any major surgery, there are always elements of risk attached such as potential problems with blood clots and wound infection and there's a possibility of the band slipping, breaking or becoming dislodged which may require further surgery to remove or adjust it but, in general, it has become a well practised and routine procedure which, if you follow the lifestyle changes with regards to diet afterwards, can prove to be a very successful procedure in helping you to lose excess weight which will help you to avoid other health problems associated with obesity so any benefits far outweigh the risks.
You might also like...
Hi my husband had gastric band 3 years ago now has a hot red rash and a big lump at the top of his band have you any answer to what it could be
lowe
- 25-Jul-12 @ 9:34 PM
I had a gastric band fitted two years ago and it really changed my life. I would never have been able to achieve the weight loss without it. I was a size 22 and now I'm a 12 it's amazing. If you're thinking about having one fitted talk to your doctor because it's worth considering.
pat
- 23-May-12 @ 10:00 AM