The Intricacies of Vascular Surgery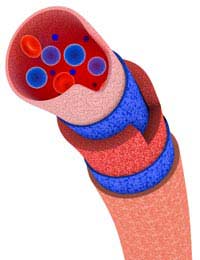 Vascular surgery is a branch of surgery that is extremely specialised and that has only developed since the 1970s. The techniques involved are intricate because not only does the surgery aim to repair larger blood vessels – the main arteries and veins – it also includes operations on the smaller blood vessels, right down to individual capillaries. Vascular surgery has many applications from varicose vein surgery to repair of an aneurysm in the main aorta to the delicate surgery required to relieve a blockage in one of the blood vessels that supplies the kidney.
What Does a Vascular Surgeon do?
The definition of vascular surgery is any operation that aims to repair blood vessels in the body, or connect blood vessels that have been severed or damaged. Although a vascular surgeon may operate as the major surgery to treat vascular disease, he or she may also be part of the team that deals with limb amputations, attaching severed fingers, organ transplants, such as heart and heart and lung transplants and kidney transplants, trauma and accidents and heart and brain surgery. In the latter two cases, the main surgery will be either a cardiac specialist or a neurosurgeon.
Vascular Problems
Vascular problems can occur as the result of an accident, in which trauma and injury have damaged bone, muscle and other tissues, and requires emergency surgery to prevent further damage by inflammation and as the blood supply to vital organs and tissues is cut off by an inadequate blood vessels supply. People with diabetes can suffer many problems with their circulatory system, and blockage of smaller blood vessels can lead to conditions that involved ischaemia – a medical term that means lack of a good blood supply.
People with diabetes tend to be at high risk of leg ulcers when they are older, because of the damage to the blood vessels in the lower leg. If not treated successfully by relieving blockages in the blood vessels, parts of the lower leg can be at risk of having so little blood supply that the tissue dies. Gangrene and other infections are then a potential problem, and amputation of the leg may be required.
Thrombosis, a condition in which a vein becomes completely blocked by a blood clot can occur anywhere in the body but it is particularly dangerous when it affects a main vein in the body, leg or lung. A deep vein thrombosis in the leg causes pain but there is further danger of part of the clot breaking off and becoming lodged in an artery that supplies the heart (causing a heart attack) or part of the brain (causing a stroke). The clot can also form or break off and become lodged in one of the major blood vessels in the lungs, causing a pulmonary embolism.
Advances in Vascular Surgery
Operating on the blood vessel network of the body has always involved intricate techniques but developments in the last few years have focused on minimally invasive techniques using keyhole techniques and even endovascular surgery. This technique does not require incisions into the body to uncover the blood vessels before the surgeon works on them. Instead, tiny surgical instruments are inserted into a catheter tube that is passed into the body through a vein and pushed around until the problem area is reached. A tiny endoscope with a real-time video camera allows the vascular surgeon to see the area that needs repair and the surgery is done remotely using computer screens and manipulation of the instruments at the end of the catheters.
About Operations is sponsored by Purely Energy, who have funded a lot of our content. If you are looking for a low cost business energy supplier, take a look at their website.
ABOUT OPERATIONS IS FOR SALE.
This website is for sale [more info].
You might also like...